Updates May 22 2022
May 22, 2022
Dear Families:
As we enter the last week in May, it is a very busy time!  CCHS held the first prom since 2019 last night with great success!  The week brings concerts, art shows, Grade 5 visiting CMS, and more!
In the Spotlight
CCHS Spectrum Club
One month ago, the CCHS Spectrum Club visited the School Committee to share an overview of their work and purpose, which includes goals for the LGTBQ+ community at CCHS by raising awareness and sponsoring fun events.  The entire presentation is posted here beginning at minute eight.
Literacy:  Multi-Tiered System of Support
The recording of last week's Literacy Presentation K-12 is available here.  The slides are posted here.  The presentation's focus is on the use of assessments to collect data that helps identify students needing intervention and support.
Interim Director of Student Services
As required by DESE, we will post for an Interim Director of Student Services with the expectation that our current Interim Director Debbie Dixson stays on for the 2022-2023 school year.
Concord Race Amity Day Community Potluck
The Concord Race Amity Day Community Potluck is scheduled for Sunday, June 12th, from 1 pm-4 pm at Alcott Elementary School (the rain date is June 19th, "Juneteenth"). Families are encouraged to bring cultural dishes, non-alcoholic beverages, and games/activities to share. Click here to view the event flyer. Click anywhere on the flyer to RSVP via Signup Genius. 
To learn more about Race Amity, Students in our community have created this informational video.
If you have any questions, concerns, and/or suggestions, please contact the planning group: Ji Orloff—jdorloff2008@gmail.com, Rich Yamartino— richyama8@gmail.com, and Andrew Nyamekye—: anyamekye@concordps.org.
Concord Free Public Library
This summer "Read Beyond the Beaten Path" at the Concord Free Public Library (CFPL)! The CFPL Summer Reading Program runs from Monday, June 6 through Friday, Aug 12 and is free and open to children of all ages. Visit the Main Library or Fowler Branch to register and collect your prizes. Everyone gets a necklace and brag tag for joining the program. Kids earn beads for their necklace by reading and completing challenges on our weekly bingo boards. Our youngest patrons get to earn cute rubber duckies! Learn more here.
Are you a teen or caregiver of a teen in need of community service hours? Look no further than the Concord Free Public Library! Join Teen Librarian Cary Stough Monday, May 23 from 6:30-7pm for a short informational session at the Main Library on the many opportunities available to teens, from craft preparation to creating and facilitating their own programs. Teen volunteers have been the source of much of what makes the Library such a vibrant, unique community space. If you cannot make the session, or would like more information, please visit our website. No registration required.
CCHS Art Show at ConcordART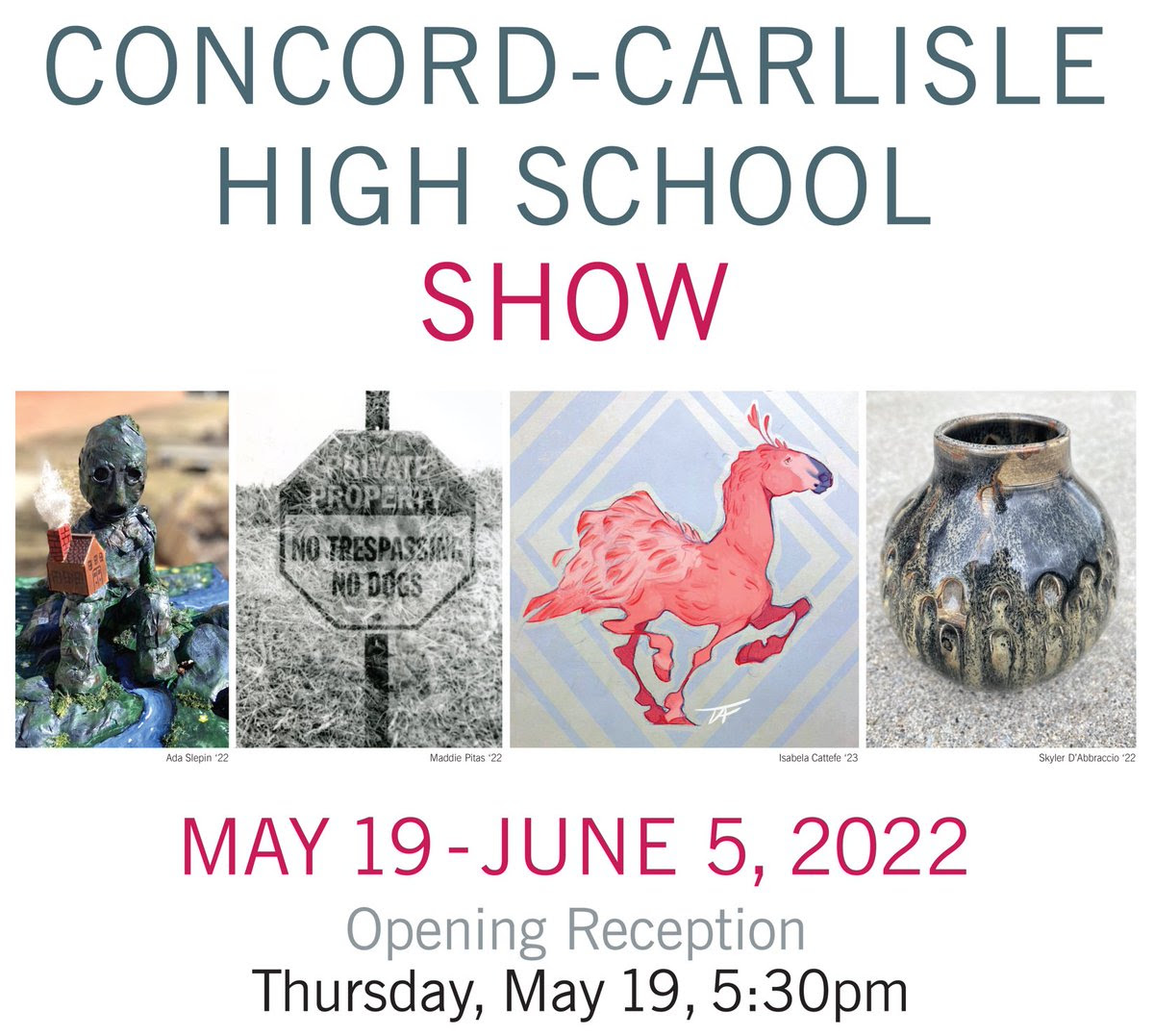 ConcordART is hosting the annual CCHS Art Show that opened last week and runs through June 5.  Please stop by! Concord ART is located at 37 Lexington Road and is open from 10 am-4:30 pm Tuesday through Saturday and 12-4 pm on Sunday.  Congratulations to the artists of CCHS!
COVID
Last week, we saw similar case counts as the previous two weeks, reflecting the ongoing spike.  Our case counts are kept current on the COVID Dashboard.  I am in discussion with the public health leaders about hosting a booster clinic for children ages 5-12 now that the booster has been approved.  I will share more information as I have it.
Stay cool tonight!
Best,
Laurie